Company Profile
Canadian Roofing Company Ltd. is a family business that has been providing custom quality building code compliant workmanship throughout the GTA with thousands of satisfied customers for over 30 years. (link to Read our reviews at HOMESTARS.COM) We are fully licensed, WSIB covered and have full liability insurance. Unlike most of our competitors that sub-contract their work out, we pride ourselves in using our own in-house technicians who are fully trained in fall arrest, WHMIS, Health & Safety, safe material handling, First Aid and current installation procedures. With these credentials , our goal is to provide a safe and secure job site, deliver superior service and a building code compliant job with guaranteed peace of mind. All of our work comes with a full written warranty for the type of service provided.
It is our aim to ensure the longevity and value of your home by integrating new technology with older architecture. Our roofing, carpentry, insulation, aluminum and ventilation solutions target the complete system of the home which help maintain the balance between esthetics and function.
Canadian Roofing Company Ltd. prides itself on staying current with the changing market conditions. Roofing products have evolved substantially over the past 20 years with new products being introduced yearly. For example, organic asphalt shingles have been replaced with more durable fiberglass (you can read about it here). We aim to provide you with product options to match your needs and the design of your home.
Our Mission
Canadian Roofing Company Ltd's mission is to determine your specific roofing concerns, educate you on proper roof and Building Code protocols and procedures and come up with the best solution for your type of structure and budget. We will provide a detailed estimate outlining the services and costs required for each project. We pride ourselves on being trustworthy, friendly, informative, reachable and approachable. Our aim is to make the process as simple as possible and provide a high level of quality workmanship. In todays competive market, we understand that our success depends largely on customer satisfaction, winning a clients trust and respect and maintaining great relationships with our employees and suppliers. Give us a call it would be a pleasure to provide an estimate for you!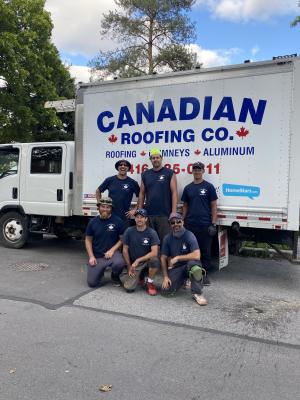 YEAR ESTABLISHED 1983
NUMBER OF EMPLOYEES 14
PAYMENT METHOD Cheques, Cash, Visa & Master Card
LICENSES Metro License
LIABILITY INSURANCE Yes
WORKERS COMPENSATION Yes
BONDED No
WRITTEN CONTRACT PROVIDED Yes
WARRANTY TERMS Yes